Spencer Crittenden
& Dino Stamatopoulos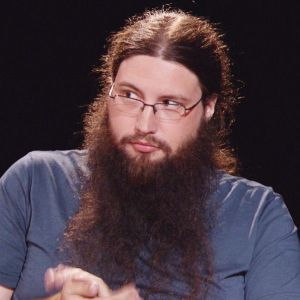 I asked Dino to invite someone who could shed light on the synchronicities of May 5, 2012 as far as they related to the TV show "Community". Instead he invited Spencer Crittenden.
Spencer is the perfect first "celebrity" guest for Radio8Ball, and not just because he isn't what I wanted but turned out to be perfect anyway, which pretty much describes most people's experience with Radio8Ball.
I've always felt most comfortable among my fellow nerds and Spencer, as the dungeon master of Harmonquest is, if not the nerdiest of celebrities, certainly in the conversation. Precisely the kind of conversation of which I want to be a part. Does that make me a nerd? I don't know. It definitely makes me feel like a nerd which, in this particular scenario, is a good thing.
As you will hear (or have heard) I'm the only one actually nerding out in this segment. Nerding out on May 5, 2012. Nerding out on "Community". And now I'm nerding out on you.
If that's a pleasant experience for you, this is going to be your kind of podcast. If not, may I suggest…
BROWN BOOZE

(G C D…)
OH I NEVER SHOULD HAVE GONE BROWN
DID YOU SEE ME ON THE WAY DOWN?
TURNED MY SMILE UPSIDE DOWN
NEVER SHOULD HAVE GONE BROWN
NEVER SHOULD HAVE DRUNK FROM THAT CUP
TURNED MY FROWN RIGHTSIDE UP
DO I REGRET IT? YUP.
NEVER SHOULD HAVE DRUNK FROM THAT CUP
(G D…)
WHEN I WAS YOUNG…DIDN'T NEED BOOZE
WASN'T ACCUSTOMED TO WATCH MYSELF LOSE
BACK THEN I HAD THE LUXURY TO CHOOSE
AND I WASTED MY LUXURY TO LOSE
EVEN THOUGH I KNEW IT WAS A RUSE
I LOST MY SKILL TO AMUSE
(G C…)
OH…BROWN BOOZE
OH…BROWN BOOZE
BROWN BOOZE BROWN BOOZE BROWN BOOZE
BROWN BOOZE I DESERVE TO BE YOUR CLOWN
THINK I SAW YOU ON THE WAY DOWN
I WAS ON THE WRONG SIDE OF TOWN
NEVER SHOULD HAVE GONE BROWN