Julie Christensen
& Dino Stamatopoulos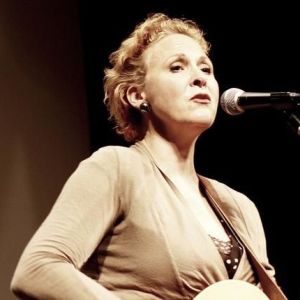 I try and include Julie Christensen in almost everything I do. Supremely talented? Yes. As good hearted a person as there is? Yes. But more than that she's a kind of sync magnet. Maybe that's what Leonard Cohen dug about her as well. Certainly, there are many who could sing behind him but far fewer who could hang WITH his brutal muse.
I figured Dino would be impressed with Julie's connection to one of his songwriting heroes but one thing that's great about Dino is he's really not impressed with much of anything or anyone (least of all himself) which led to this podcast's funniest moment.
Julie sailed along above it all, out in the country among the crickets and cicadas, and the byrds (roping another songwriter – Jon Byrd – into the podcast as well). That's just who she is. A generous force of nature. And now she's bionic so look out.
I put one of my favorite Julie Christensen songs "Traveling Companion" at the end of the podcast. And here's a video of Jon Byrd.
LYRICS:
OKAY FOR SURE
SOMEONE STOLE
MY MOTORCYCLE THE OTHER DAY
I KNOW THEY STOLE IT
NO ONE TOWED HER AWAY
I DIDN'T GET TOO MAD
BUT I GOT A LITTLE BLUE
CUZ I LOVED HER TOO
WHEN I RODE HER
WE ALL HAD OUR EYE ON HER
BUT I OWNED HER
SO I GOT TO RIDE ON HER
WHEN THEY LOOKED AT ME
THEY MUST HAVE JUST TURNED GREEN
NOW THEY GOT AWAY CLEAN
F
AND I JUST HOPE
G
THEY'LL TAKE GOOD CARE OF HER
F G
CUZ I DON'T MIND TO SHARE IF I
C G Am – C – Am – G
KNOW SHE'S OKAY FOR SURE
(C – Am – G…)
I HAD A KITTEN
BACK WHEN I WASN'T SNEEZY
NO ALLERGIES BACK THEN
SO LOVIN' KITTENS WAS SO EASY
BUT MY EYES TEARED UP
WHEN MY MOM GAVE HER AWAY
WITHOUT MY SAY
AND I HOPED
THEY'D TAKE GOOD CARE OF HER
CUZ I DIDN'T MIND TO SHARE IF I
KNEW SHE WAS OKAY FOR SURE
I'VE GOT A DAUGHTER
SHE SURE IS DADDY'S GIRL
SHE'S THE REASON
I'M SITTING HERE IN THE WORLD
I DIDN'T KNOW IT
BEFORE SHE SHOWED HER FACE
BUT NOW I KNOW MY PLACE
AND SHE'LL TRAVEL
TO PLACES WITH HER HEART
WON'T ALWAYS SEE HER
IN SOME WAYS WE'LL BE APART
AND A PIECE OF ME
WILL JUST HAVE TO MAKE DO
AND MAKE WAY FOR THE NEW
AND I'LL JUST HOPE
THEY'LL TAKE GOOD CARE OF HER
CUZ I WON'T MIND TO SHARE IF I
KNOW SHE'S OKAY FOR SURE