Andras Jones
&
Chris Price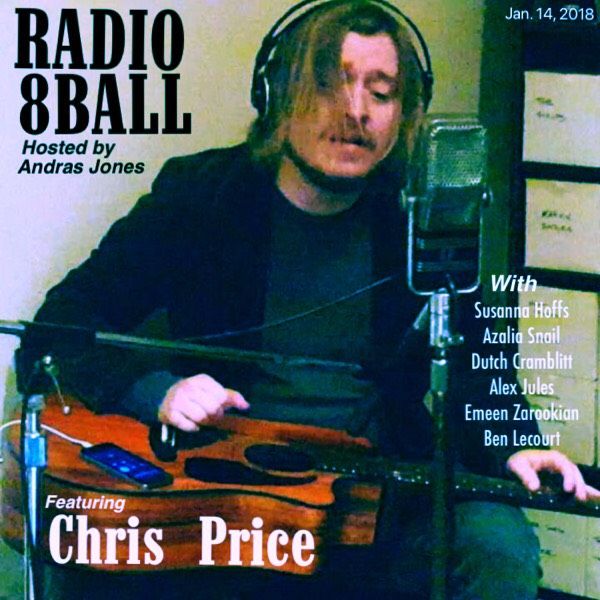 FROM ANDRAS JONES: Today begins our Pop Oracle session with Omnivore Recording artist CHRIS PRICE. This is the final of the series of 8 episodes that began with INARA GEORGE in November, a series that saw us exiled from the studios at Starburns Industries while our former network, Feral Audio, was #metoo'd out of existence. In fact, yesterday was their last, day that is, and starting next week, we're back in the studios at Starburns, so sync that. During the course of this episode with Chris we will be joined by Susanna Hoffs, Azalia Snail, Dutch Cramblitt, Alex Jules, Ben Lecourt & Emeen Zarookian. We'll talk about music, and dementia, and sexism and accountability, and murder, yes, murder. Our first musical divination of the episode is initiated by my question, and it is fortuitous in that I asked how I could best weather being yelled at by people who project their toxic energy onto me, something I've had the opportunity to put into practice of late, as those who follow me on social media may be aware. It should be an interesting ride as we spool this episode out over the next 8 days. Make sure not to miss them by subscribing to us on iTunes or Stitcher.
STOP TALKING
I gotta settle down
I wanna walk around
I gotta find a place
that I can separate
From my mind and state
That's just my state of mind
I'm always seeing signs
That there's more to life
than being next to grace
I gotta cut to the chase
Gotta cut to the chase
Stop talking about me, I feel so ashamed
I've said it all before and there's nothing left to say
I'll stop thinking about me and think about the ground
Maybe I'll go somewhere and I'll never be found
Stop talking about me, I feel so estranged
Stop talking about help, nothing's gonna change
Stop talking about home, I don't wanna stay
Stop talking about then, what about today?
I feel a deeper pain
In my mind again
Since you went away
I had so much to say
I gotta get to you
And tell you that I'm blue
Maybe you feel it too
And we could work it out
And you would kiss my mouth
What am I talking about?
What am I talking about?
Stop talking about you, it's too late to be fixed
I've already lost you in my self-indulgent fits
I've stopped thinking about you, so why am I possessed
With the thought of going upstairs and taking off your dress
Stop talking about love, I don't think it's real
Stop talking about pain, I don't wanna feel
Stop talking about drugs messing with my head
Stop talking about life, I'm already dead
I gotta settle down
I wanna walk around
I gotta find a place
that I can separate
From my mind and state
That's just my state of mind
I'm always seeing signs
That there's more to life
than being next to grace
I gotta cut to the chase
Gotta cut to the chase