Andras Jones
& Dino Stamatopoulos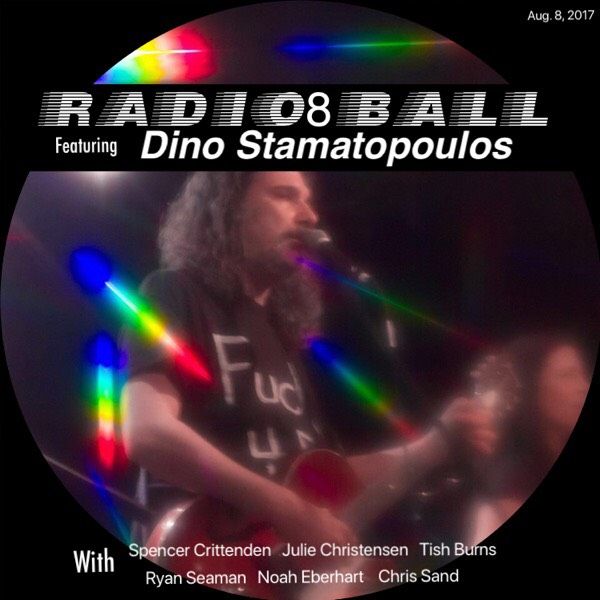 So it begins. Began.
August 8th, 2017.
Dino invited Radio8Ball into the world of Starburns and Feral Audio, so I invited Dino to be our first musical guest. He'd been on plenty of Radio8Ball shows in the past but almost always as the back up for his buddy Andy Dick, in case Andy blew off his appearance (which is something you have to plan for with Andy).
The one time Dino was a guest in his own right, on May 5, 2012, his Pop Oracle reading yielded so much sync I chose it to begin this series for Feral Audio, and then to devote a good portion of this first episode to digging even deeper into. As I told one of my producers, I wanted our first episode to be the most ouroboros head-up-its-own-ass show possible. When we swing big on Radio8Ball, we swing small. Really really small.
Our first session was like Dino's music; A little messy, a little too intimate, maybe funny and, upon closer examination, potentially brilliant.
I was nervous and I think it shows but I still had the good sense to trust the sync and follow the thread where it led despite it being awkward to do so.
As far as what I regret?
I've had a few.
Here are Dino's lyrics (and chords too):
TOPPING FROM THE BOTTOM

Em
I'D FORCE HER IF SHE'D LET ME
I'D TRANSGRESS HER IF SHE WAS ONLY ON MY SIDE
I'D DISOBEY HER WITH HER PERMISSION
AND BIND HER BUT MY HANDS ARE ALWAYS TIED
Am
I WOULD WAIVE ALL HER RIGHTS
IF SHE'D SAY IT'S ALL RIGHT
I'D BE BAD IF SHE ONLY KNEW
WHAT'S GOOD FOR HER TONIGHT
Em
I'D FORCE HER IF SHE'D LET ME
I'D TRANSGRESS HER IF SHE WAS ONLY ON MY SIDE
C
WILL SHE ORDER ME TO MAKE HER BEG?
G
WILL SHE TORTURE MY MIND WHILE SHE CLUTCHES MY LEG?
Am
WILL SHE WORSHIP MY FEET WHILE SHE'S CAUGHT 'EM?
Em
WHILE SHE'S TOPPING FROM THE BOTTOM
Em
I'D TAKE HER ON A JOURNEY
INHIBITING ALL OF HER MOBILITY
SHE'D BE PASSIVELY RELIEVING
ALL OF HER ACTIVE RESPONSIBILITY
Am
PHONEY DETESTING
THE MOLESTING
WHILE I CARRY FAME AND BLAME
TO HER LAME PROTESTING
Em
I'D FORCE HER IF SHE'D LET ME
I'D TRANSGRESS HER IF SHE WAS ONLY ON MY SIDE
C
WILL SHE BE FREE FROM EVERY GUILT?
G
WILL SHE LET ME SPILL WHEN SHE'S NEVER SPILT?
Am
AS I TURN TO SALT IN SODOM
Em
WHILE SHE'S TOPPING FROM THE BOTTOM
C
WILL SHE LIVE FOR MY EVERY KILL?
11.
G
WILL SHE RUT IN HEAT AS SHE FEELS MY CHILL?
Am
WILL SHE FIND HER SPRING IN AUTUMN?
Em
WHEN I'M TOPPING FROM THE BOTTOM
(INSTRUMENTAL: ONE VERSE)
C
WILL OUR DREAMS SOON BE FULFILLED?
G
IN THIS RACE TO SUBMIT TO EACH OTHER ONE'S WILL
Am
ARE WE UNTIED WHEN WE KNOT 'EM?
Em
WHILE WE'RE TOPPING FROM THE BOTTOM